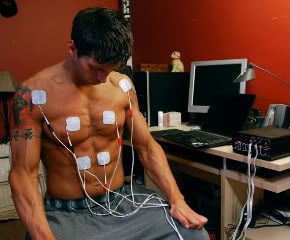 Health insurance providers are offering their own versions of a virtual fitness system for the Web junkie set. Following a successful internal beta test with its own employees, "Aetna Health Connections Get Active!" is a group / team oriented fitness and nutrition program tailored to Aetna's commercial employer health plan customers.
The company reports that more than 57 percent of its 35,000 employees in the United States participated in the "Get Active Aetna" program. One Aetna official from Arlington, TX reports the program helped him to lose 120 pounds. Other employees say the social networking component of the program has helped them connect with others who they otherwise wouldn't have considered shaping up with. The program is a private-label product of Providence, RI-based Shape Up The Nation.
Even before the current Twitter and Facebook fanatics flocked to the Internet, Med School buddies Brad Weinberg and Rajiv Kumar learned from their early clinical days that patients who were the most successful at losing weight, increasing their exercise, quitting smoking and sticking to their goals all had one thing in common: they had social networking profiles and used their online friends to push them forward.
Aetna isn't the only group health plan provider to put exercise in the cloud. Cigna, UnitedHealth and other major insurance companies offering their own brands of virtual fitness tracking and exercise regimes, to their own employees and to their plan subscribers. These companies and other FORTUNE 500s regularly report substantial cuts in healthcare costs, employee morale and retention by offering wellness programs that are fully integrated into social networking sites.
Some online fitness program providers work with companies to generate customized reports that tell CEOs which employees are using the program and how often. Other companies fully-integrate the data into Human Resources systems to cross-reference it with group health insurance claim information. While privacy advocates have concerns about the usage of such data to discriminate against employees in some way, national statistics tend to favor the employer:
The Kaiser Family Foundation reports: Nationwide, employer-sponsored health coverage premiums for family coverage have increased by 97% since 2000, from $6,438 to $12,680 in 2008.
Many have experienced 16% increases during the last 3 years much due to the rising epidemic of obesity and overweight adults.
A study in the Journal of Health Affairs noted that per person health care spending for obese adults is 56 percent higher than for normal-weight adults. Over 15 years, the additional costs incurred by obese adults with private health insurance versus normal-weight adults increased from $272 to $1,244 per person per year. The International Journal of Obesity reports, weight gains of 20 pounds are associated with medical care cost increases of >$500 over the last three years.
Obese workers lose about 13 times more days per year of work from injury or illness. (In an organization of 10,000 employees, with 32% obesity, that equates to 334,880 hours or an estimated 161 full time employees. With an average national salary of $38,500, the total cost of lost days can be as much as: $6,198,500 per year.)
Online nutritionists, exercise coaches and member message boards are also growing in popularity outside the workplace since real-live trainers are finding work in other industries and more exercise enthusiasts are cutting their gym memberships to save money.
Tags: health insurance companies, united healthcare, wellness